BioShock gets update: number of activations per game increased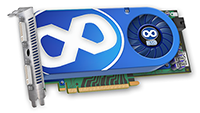 Tuesday 28th August 2007, 02:02:00 PM, written by
Farid
One of the rare
negatives
brought up by gamers during discussion about BioShock, the latest game from Irrational Games, now 2K Boston and 2K Australia, was its quite draconian online activation system. Acknowledging this outcry from their customers and fans, 2K games decided to raise the number of authorised online activations to a more reasonable level.
The number of authorised simultaneous installations had been limited to 2 computers, and only 3 reinstallations of the game on these 2 machines were allowed.  That resulted in a system that many considered too restrictive and kind of unfair to the legitimate owners of the game.
An update made to the game activation server now finally raised these limits to a 5-by-5 plan. In other words, the game can now be installed on 5 different computers and reinstalled 5 times on these same boxes. Also announced by 2K was future release of a "revoke tool" which will allow users to free one of these 5 activations from a computer and move it to another one entirely.
This new approach to the online activation of the game sounds better than what has been made available out of the box for the owners of the PC retail version. Nonetheless, some might consider it still restrictive and not future-proof at all.
Industry veteran, Ken Levine, also BioShock's lead designer, chimed into that debate and cleared the doubts about the future and the activation system for BioShock. Speaking with
Joystiq
, Levine pointed out that the online activation system will only be available during the period of time the game is "really hot and there are people really trying to find ways to play the game without buying it." After that period, a patch will be issued allowing the game to be installed without online checks. This information should put that part of the debate to ease.
Tagging
graphics ±
bioshock, online, activation, system, restrictive
Related graphics News