Wireless HD video chipset, WHDI, now available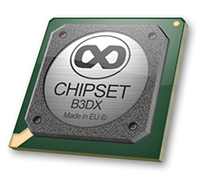 Thursday 30th August 2007, 10:10:00 PM, written by
Farid
AMIMON, an Israeli technology startup, just
announced the availability of its WHDI transmitter (AMN2110) and receiver (AMN2210) chipsets
. These chipsets allow wireless streaming of uncompressed HD video and audio beyond 30 meters (100 Feet) through walls.
This technology, first publicly demonstrated at the 2005 Las Vegas Consumer Electronics Show, functions as a video modem. Unlike normal wireless data modem, the WHDI technology treats differently the most significant bit (MSB) and least significant bits of every pixel, protecting the most the integrity of the former since it's the one that has the greater importance for image fidelity. Future implementations of WHDI will support the delivery of an uncompressed 1080p video signal (with equivalent video rates of up to 3 Gbps), using a 40MHz channel in the 5GHz band, rather than the 18Mhz channel products announced today.
AMN2110 and AMN2210 Features

:

Digital video interface, up to 30 bit RGB or YCrCb

Supports most video resolutions up to 720p and 1080i (including XGA)

Digital audio interface for both SPDIF and I2S

WHDIâ"¢ MIMO technology, using 5Ghz, 18Mhz bandwidth

More than 30 meters range within a room with no line of sight required between transmitter and receiver

Coexists with 802.11a/n and 5.8Ghz cordless phones

Strong 256-bit AES encryption



The released AMN2110/2210 chipsets support video resolutions up to 720p and 1080i, including PC XGA resolutions, have a range of 30 meters with less than 1 ms latency. The chips use a 18Mhz channel in the 5GHz band. No maximum bandwidth numbers were made available yet for this product. For more information on the HD video bandwidth requirement, take a look at our article on
DisplayPort and CMOS Photonics
.
WHDI-based consumer electronic products should be made available in 2008. HDTV sets with the technology will be presented at the upcoming IFA Consumer Electronics tradeshow held in Berlin this week.
Tagging
Related corelogic News