PCI-SIG updates PCI Express Integrators List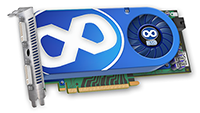 Thursday 14th December 2006, 12:12:00 PM, written by
Geo
For the chicken-entrail stirring graphics geek, a new update of the PCI Express Integrators List is always appreciated. It's often the case that unannounced products get unmasked here as imminent before other places. We've noticed that the
November 30th update is out,
and as is often the case, there is plenty here to conjure with.
It would appear that the entirety of AMD's product line has stepped up to the PCIe 1.1 spec on the lists. Currently NVIDIA's finest are still listed as 1.0a compliant. No word on whether this is signifcant, or merely a timing issue for having submitted GeForces for testing. More curiously, however, is that 8800 GTX is a no show completely, nearly three weeks after the GF8 flagship's announcement.
AMD's RV550 takes a bow, still with no "Radeon" name to put to the SKU, however. Previous reporting identifies this as pretty much an RV516 core plus the new Universal Video Decoder (UVD), and touted by AMD's roadmaps to make a December appearance. Also listed is a mysterious RV560LE. We've heard of the RV560, of course, but what's that "LE" doing there?
Tagging
graphics ±
Related graphics News