AF Quality
The Graphics Products Group decided not to bestow R6-series silicon with a noticeably better AF LOD selector than R5-series hardware, which let NVIDIA overtake them in ultimate texel filter quality, with NVIDIA's implementation of a mostly angle invariant selection in G8x products.
The R6-series' maximum mode, 16x, shown above, selects lower levels of AF more often than G8x does, although the default quality for R6-series parts is higher than seen with R5. In fact, the R6-series default quality is almost equivalent to the user-selected high quality mode available with R5. R6-series products can drop down to the lower quality selection algorithm, too (just like G8x parts can drop down to something akin to G7x levels of selection), if needed. That depends on application profiling though, and doesn't save much performance in our testing with a few games.
What's bothered us most throughout the analysis process for R6-series IQ after noting AF quality levels is persistent driver issues, especially in DX10 games and demos. With a particular, "hey, AF isn't being applied here", moment noted and sent to AMD, the issue has remained unfixed throughout all public driver releases that we can see. That's in the Call of Juarez DX10 benchmark, for those interested. Similar reduced levels of AF can be found when running other DX10 binaries, although it's not indicative of a global problem, since it doesn't affect BioShock testing in recent days with the hotfix driver.
Indeed, it only seems to affect certain combinations of sampler state for a surface under DX10, in certain shaders in certain games. If it pops up again in Catalyst 7.9 we'll show you more clearly what we mean in a couple of game demos. Here's a couple of shots from the CoJ DX10 Benchmark Demo with Catalyst 7.7 on a Radeon HD 2900 XT, and 163.13 on a GeForce 8800 GTX, both under Vista x64.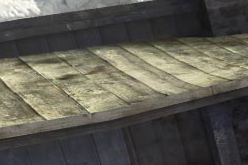 As far as filtering optimisations go, AMD carry on with their usual selection of optimisations adjusted with the quality slider and Catalyst AI. We don't detect anything different there compared to the R5-series IQ.