CeBIT 2007 - ASUS drive bay VGA overclocker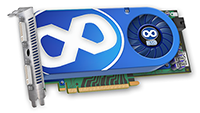 Friday 16th March 2007, 05:05:00 PM, written by
Rys
If you're into getting the most out of your graphics card purchase via overclocking, ASUS have a hardware extra for their graphics boards that lets you do it without software.

Fitting into a spare drive bay in your PC, the OC Gear interfaces with your graphics card and lets you adjust clocks, monitor temperatures and voltages, and also the speed of your graphics card's fan, on-the-fly and without any software required.



Insert obligatory joke about overclockers enjoying playing with their knobs here.

Tagging
Related graphics News