Apple set to use NVIDIA GPU in MacBook Pro refresh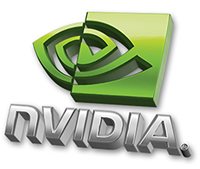 Tuesday 05th June 2007, 11:21:00 AM, written by
Rys
A
news story on AppleInsider
seems set to confirm rumours we've heard in recent weeks that NVIDIA is going to provide the GPU for the upcoming MacBook Pro refresh. Indeed, Apple's online store is currently unavailable due to product updates taking place, and we believe the refresh is the reason.
AppleInsider show two variants of GeForce 8600M GT being used, with 256MiB of attached memory for the fastest 2.4GHz MacBook Pro, and 128MiB for the slower 2.2GHz model, both sporting Core 2 Duo processors, 2GiB of DDR2 memory, 15.4" screens and HDDs at least 120GB in size.
The move to NVIDIA G84-based graphics for the MacBook Pro (and there's a small chance that G86 might make an appearance in the refresh Macbook later this year, too, Apple maybe moving away from IGP in the entry-level) represents a high-profile design win for NVIDIA in terms of the introduction of their DX10-class hardware in mobile products.
Coming as Santa Rosa kicks in for almost all OEM's notebook products lines, NVIDIA will be looking for as much of that business as possible, and Apple represents a strong base for that push in terms of mind- and market-share. Apple look set to take at least a 10% share of the retail notebook market in the US, with the MacBook Pro a good proportion of that.
Update: looks like the rumours were correct, the new MacBook Pros with
8600M GT
are
now available
.
Tagging
nvidia ±
apple, macbook, pro, g84, 8600m
Related nvidia News