Performance
Our test platform was as follows.
Hardware
Processor: Intel Core 2 Extreme X6800
Mainboard: Intel D975XBX i975
Memory: 4GiB DDR2-800, 5-5-5-12
Display: Dell 2405FPW
Graphics: ATI Radeon X1950 XTX
Software
Operating System: Microsoft Windows Vista Business x86 (6.0 - 6000)
Operating System: Microsoft Windows XP Professional x86 (5.1 - 2600) /w SP2
Graphics Driver: ATI Catalyst for Windows Vista (7.1)
Graphics Driver: ATI Catalyst for Windows XP (7.1)
Games: Company of Heroes, Quake 4, Dark Messiah, Half-Life 2 Episode 1
How We Tested
Both operating systems got a fresh install from scratch onto the same disk with no prior graphics drivers present, a dose of Windows Update to bring them up to date at the time of writing and then the games installed and their extra data put in place for benchmarking (scripts and the like).
Results
AMD made note during our call to discuss the release that when graphics limited, Vista performance under Direct3D9 should be broadly equivalent to that on XP, usually to within a margin of error. Mention was made of driver overhead (not counting Set/Draw function overhead here) being slightly higher under Vista than XP because a larger portion of the driver resides in userspace, rather than in the kernel. We're not 100% sure why that has to be the case, since the new driver model offers support for fast DMA between both portions of the driver, and mode switching should arguably be less for any given graphics driver because more of it resides in userspace. But we digress a little, here are the performance results.
Quake 4
Quake 4, as well as running much slower under Vista compared to XP because of the driver's focus on compatibility, also showed serious rendering errors (missing textures, questionable filtering in places, complete lack of shadows). It's much the same story in other OpenGL applications (and not just games) where performance isn't where it should be.
Company of Heroes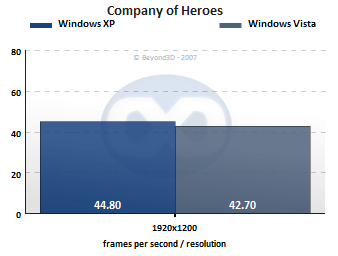 Vista performance is close in this demanding Direct3D title, although not without rendering issues on both XP and Vista alike.
Dark Messiah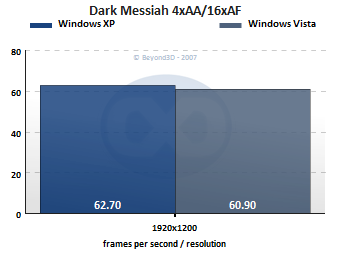 Dark Messiah runs nicely on Vista (although with some slight hitching that we don't experience on XP), the final average framerate within spitting distance of the very same hardware on XP.
Half Life 2 Episode 1
We saw no issues rendering or performance wise on Vista with Episode 1, hinting that the XP and Vista drivers share a common codebase.