Intel report $8.7B 2Q revenue despite CPU price war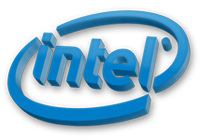 Wednesday 18th July 2007, 01:01:00 PM, written by
Rys
Intel announced quarterly revenues of nearly US$9B yesterday, with net income of US$1.35B, despite fighting AMD very aggressively in the consumer microprocessor market in recent quarters.

Indeed, gross margins are down over 3 points and net income was down from US$1.5B the previous quarter (Q1 2007). Processor ASPs are lower, with sheer volume making up the difference to stave off a revenue drop of just 2 points.

Intel's NOR flash business accounted for 1 point of that margin drop, though, and core logic unit sales enjoyed a record quarter to help balance things out in terms of the overall figures.

Projected R&D spend for the year remains at US$5.7B, while Intel expect a cap-ex spend around half a billion dollars less than expected from previous estimates, because of manufacturing efficiency increasing. That all adds up to a healthy outlook for the chip giant for 2007 as a whole.

We'll do a cross-company summary comparing Intel to AMD in the CPU business when AMD announces its results.


Tagging
intel ±
revenue, q1, 2007, forecast, margins
Related intel News