CeBIT 2007 - AMD reveal RV6xx is a sound card too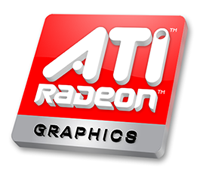 Thursday 15th March 2007, 11:11:00 PM, written by
Rys
AMD held a press conference at the CeBIT Messe today to talk about how their general business is going, with Rick Bergman talking about their next generation of graphics products in the middle of it.

Rick revealed that to provide full audio over RV6xx's HDMI support, the ASICs implement a HD Audio controller as well as the rendering core, allowing the board to pass out protected path audio along with video on any HDMI ports the final products might sport.

Whether it was on purpose that the following slide was labelled RV6xx only, leaving out R600 from having the same functionality, is currently unknown. There's also a cheeky R600 floating around CeBIT, we've discovered, so we'll endeavour to snap some up-close pics if we can. Fingered crossed.



As you can see, unprotected audio is still available over other connections via controllers elsewhere in an RV6xx-equipped system.

Tagging
Related ati News