CeBIT 2007 - ATI RV610 turns up naked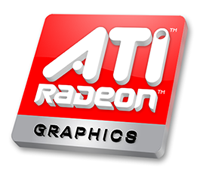 Friday 16th March 2007, 02:02:00 PM, written by
Rys
We mentioned yesterday that we thought there was a sneaky R600 running around CeBIT somewhere and that we might get pics today. And indeed there is a board, which we duly sat down to look at this morning in person. It's big.

But since R600 board shots are ten a penny these days, we thought we'd show you some new shots of its little siblings instead. Who'd have thought that Radeon X2900 XT wouldn't be the cool new graphics product at CeBIT, eh?

So first off we have the ~7.7x10.7mm RV610 instead.



The board it sits on is low profile and 128MiB of GDDR2 connects to its 64-bit memory bus, with one dual-link DVI and one analogue VGA output present on the engineering sample PCB design housing the new AMD GPU.

AMD's low-end discrete graphics laurels rest on the diminutive RV610, the chip built on 65nm at TSMC.

Tagging
Related ati News