CeBIT 2007 - ATI RV630 is here too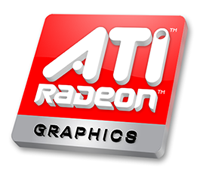 Friday 16th March 2007, 02:02:00 PM, written by
Rys
ATI RV610 isn't the only new graphics chip from AMD to steal R600's thunder here at CeBIT. We've got snaps of the mid-range RV630 too, set to power products from $149 upwards until R600-based hardware takes over at the upper end of the pricing scale.

Built on 65nm like RV610, it's around 13.3x11.5mm big. It's here powering a couple of boards, and the one we saw it nude on sported a pair of dual-link DVI ports and 256MiB of GDDR3 memory.




Perfect for rendering the frosted glass on a helicopter window, we think.

Tagging
Related ati News