GeCube are shipping the dual HD 2600 XT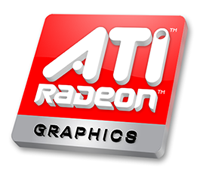 Friday 31st August 2007, 11:11:00 AM, written by
Rys
GeCube have announced that their one-PCB Crossfire HD 2600 XT design is now shipping to the channel.
Pairing two RV630s with a dual-slot cooler, up to 512MiB of GDDR3 per GPU and internal hardware Crossfire, the board supports all the feature and performance goodies that one RV630 does, with a potential doubling in performance with supported games.
You get UVD, DirectX 10 support, HDMI support (presumably from any of the DVI ports, using the active dongle), and GeCube build the board with high-quality ESR caps. Knowing GeCube, the cooler is likely to work very well and quietly to boot, and if you don't want to run Crossfire then the board is also a way to get four DVI heads from one PCI Express slot, too.
Prices quoted by GeCube are $279 for the 512MiB-per-chip version, and $259 for the 256MiB-per-chip one. GeCube, if you're listening, make one that costs $20-30 more, has a black PCB and a black cooler with no Ruby sticker, and you have a customer.
Read the full press release in our PR section
.
Tagging
ati ±
gecube, gemini, hd, 2600, xt
Related ati News