Quick Look at AMD/Intel's Financials & Positioning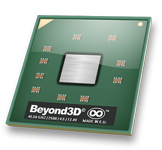 Monday 21st April 2008, 12:23:00 PM, written by
Arun
Intel and AMD revealed their first-quarter earnings last week and there were also some interesting tidbits in the conference calls. So given the lack of noteworthy news today, let's quickly analyse all of this along with the new CPU rumours that are swirling around the web.
The earnings report from AMD and Intel are available here and here respectively, while the transcripts of the conference calls are available from SeekingAlpha.com (1 & 2). In addition, there are several new rumours swirling around lately, including DailyTech on a new six-core AMD CPU codenamed Istanbul and Fudzilla claiming that AMD's 45nm Shanghai/Deneb will run at up to 3.2GHz+.
Intel Earnings
Core businesses are doing good while NAND is extremely weak. NOR is subpar but will be offloaded to the joint venture with STMicroelectronics next quarter.
Revenues of $9.7B, up 9% year-over-year but down 10% quarter-over-quarter, which is roughly to be expected given seasonality and NAND weakness.
Otellini claims the industry is in a "solid global market environment", clearly downplaying any risk of the recession being a major factor in the U.S. while USD weakness improves international sales.
Gross margin guidance for the next quarter and beyond is better than expected, which is the primary factor that resulted in the stock going up (along with strong overall income & guidance).
AMD Earnings
GPU revenue is down 11% quarter-over-quarter, from $259M to $230M, which likely isn't massively more than seasonality, but the much larger CPU business is down a more troubling 15% to $1194M. Consumer Electronics is down by 26%.
Gross margins were down sequentially, but not more than you'd expect given the lower economies of scale for CPU production when volume is down.
Net interest expenses remained roughly flat at -$80M, while the operating loss skyrocketed to $264M, compared to $70M in Q4 and $504M in Q107. Net loss also reached $358M.
AMD's cash position remained strong at $1.75B, down slightly more than $100M quarter-over-quarter. Inventory and other current assets were slightly down while current liabilities were slightly up, which explains why cash didn't suffer as much as expected.
Unlike Intel, AMD claimed their poor performance was 'amplified by a challenging economic environment for consumers'. On the other hand, preliminary analyst estimates have been indicating AMD lost share this quarter.
Intel Conference Call
Intel's two areas of major strength were servers and notebooks, while desktops remained 'solid'. The majority of server shipments are now on 45nm and Intel now expects mobile sales to surpass desktop sales this year instead of next year.
There was a clear emphasis on the strength of the USA market, especially in servers. Europe remained solid although obviously not matching the record results there in Q4. The weak USD is reducing the barrier of entry in emerging nations.
There was no mention whatsoever of Larrabee or graphics-related subjects, which is a bit surprising given how Intel was the main subject of NVIDIA's Analyst Day (sorry for not covering that properly, I had a pretty long article written but I wasn't happy about it so it got scrapped).
AMD Conference Call
Just like Intel, CPU ASPs were flat. The mix between servers, notebooks and desktops was also stable. So the primary factors here are seasonality and share loss.
Interestingly, GPU ASPs were flat to slightly down while units were flat to slightly up and gross margins improved. This resulted in a lower overall operating loss and was reportedly due to strength in the high-end (RV670) and pricing pressure in the low-end (RV610/RV620) compensating each other.
It is clear that AMD's long-term optimism for the consumer electronics business has faded away, and that they plan to sell it rapidly if a good suitor comes up; in fact, some of the phrasing felt as if one had already come up.
45nm is now expected to ramp at 'mature yields' in the summer, while volume shipments should start in Q4. Given the phrasing, preliminary shipments in Q3 for servers don't seem out of the question, they're just not banking on it.
Bulldozer, AMD's next-generation microarchitecture, is expected to sample in 2009 on 45nm. The choice of words seemed to imply that volume shipments would only start in early 2010.
Analysis & Relative CPU Positioning
To properly analyze the PC market, it is necessary to first clearly dissociate the OEMs and the channel. The former have clear cycles that you need to hit to get design wins, while no such strict guidelines exist in the channel where adoption is also more rapid. Notebooks are OEM-only and design wins are decided extremely long in advance.
Regarding OEMs, the most important design cycles are for Back-to-School and Winter. For the BtS desktop cycle, AMD will be competing with Barcelona(B3), Brisbane and Sparta, all three on 65nm and quad/dual/single-core respectively. Intel will be competing with 65nm chips (Allendale & Conroe-L) for the ultra-low-end and with Penryn and its 3MiB derivative in the rest of the market. For the Winter desktop cycle, AMD will be competing with 45nm Quad/Tri-Core while Intel's line-up will be largely unchanged except for Nehalem in the ultra-high-end.
We are relatively pessimistic about AMD's Back-to-School prospects given this line-up. Their positioning is fine at up to $100 with Sparta and Brisbane, but above that they become dependent on Barcelona and things quickly turn sour. Intel's faster dual-cores are likely to be very competitive with Tri-Core Phenoms in multi-threaded workloads while beating them significantly in single-threaded tasks. We're sure AMD will get design wins as OEMs see if consumers are appealed by the tri-core concept, but we can't see how they'd gain substantial momentum.
Furthermore, in the $100-150 market, AMD's positioning is extremely weak as their dual-cores aren't sufficiently fast to capture that market segment while their tri-cores would likely cost too much. In the $200+ market, Phenom X4s do have the advantage of being priced lower than Intel's cheapest quad-core while being faster than Intel's dual-cores in that market segment for multi-threaded workloads. However, power consumption is absurdly higher and we suspect Intel will lower the Q9300 pricing in time for the BtS cycle. So there definitely is an opportunity for the Phenom X4, but it's not a huge one.
In the Winter cycle, things get more interesting given that AMD's line-up will likely have migrated to 45nm by then. In the desktop market, the real winner could be Propus, a Shanghai derivative with 0MiB on-die that's likely be measure only ~170mm² and perform similarly to Barcelona on a per-clock basis. If that part is ready for the Winter OEM cycle in both Quad-Core and Tri-Core variants and at sufficiently high clock speeds, that's likely to be extremely appealing. Of course, that's a big 'IF' at this point.
In the dual-core market, however, AMD's positioning is likely to worsen for the Winter cycle as they remain on 65nm while Intel migrates more and more of its price points towards 45nm. In the ultra-low-end, however, that won't be the case and they should remain very competitive (a new threat there is VIA's Isaiah, but it remains to be seen whether it manages to achieve any real momentum).
In early 2009, six-core chips from AMD could be very appealing in the desktop market as Intel is unlikely to deliver anything more than 4 cores/8 threads by then. So even if performance per clock was lower, that could still be partially compensated by a higher number of cores. We are certainly hopeful that AMD would migrate to 45nm for their dual-core products by then, so that's something else which should improve. The real question at that point, however, is how high AMD's 45nm CPUs can clock (Fudzilla seems optimistic on that though) and how much faster Nehalem is per clock.
Nobody really knows, of course, but it seems very likely that Nehalem's raw performance per core will remain higher than AMD's. In the server market multi-threaded performance is what matters nearly exclusively, so that doesn't really matter - if, and only if, AMD does release a six-core socket-compatible CPU in Q1 2009. Very importantly, AMD also needs something to compete against the high-end Nehalem's 192-bit memory bus. So the dual-chip 8-core and 12-core solutions based on Shanghai and Istanbul need to use a 256-bit socket; otherwise they'll be horribly bandwidth limited. We don't know if that's the case, but we certainly hope so.
Overall, AMD is unlikely to take the server market by storm and they'll likely lose share in the 4P+ market over time as Intel's platform architecture catches up with Nehalem. However, they certainly have the potential to improve their positioning in the low-end and mid-range of the 1P and 2P markets, and that's actually where most of the revenue and profit is as far as we can tell. So there it's clearly all about execution (for both AMD and Intel) and things could turn either way.
In the laptop market, AMD has generated significant momentum with Puma, so their market share in 2008 and early 2009 will clearly be better than it is today. However, the 2009 cycle for both laptops and desktops is extremely difficult to predict, because it depends completely and nearly exclusively on how Nehalem turns out in terms of perf/watt and perf/dollar respectively. There clearly is a lot of potential for Intel dual-cores with 4 threads to compete against AMD's Tri-Cores, but whether that will happen or not is once again very hard to predict.
In the introduction we said that it was necessary to dissociate the OEMs and the Channel; however, given that AMD's product cycle seems to match that of the OEMs quite closely, it is in fact not necessary to do so. However, there is a catch: if AMD fails to deliver on time, then its positioning in the OEM market will be hurt more than in the channel given the importance of hitting specific timeframes in the former.
Conclusion
For the Back-to-School cycle timeframe, which mostly affects Q3 but also a bit of Q2, we expect AMD's positioning in desktops to noticeably worsen, while laptops improve. As for servers, we would tend to predict a slight improvement in 1P & 2P but a slight loss in 4P+.
In the Winter cycle timeframe, we expect improvements in desktops if AMD delivers on time, while laptops should continue to improve (as the proportion of shipments for 2007 cycle notebooks goes down) and Shanghai should help a fair bit in low-end/mid-range 1P/2P servers. In 2009, the picture is a lot blurrier but we don't see any dynamic that is really in AMD's favour, unless Nehalem underdelivers or Fusion overdelivers.
In conclusion, given our lack of optimism for Back-to-School but the very real potential of AMD's 45nm line-up in Winter, we expect AMD's forecast of a return to profitability in Q3 to be unachievable; however, it is very possible for them to achieve that in Q4. Even if they did, however, it remains to be seen whether it could be sustained into Q1 due to seasonality.
Tagging
Related cpu News