S3 launches DirectX 10.1 Chrome 400 GPUs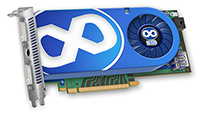 Friday 15th February 2008, 11:30:00 AM, written by
Arun
Despite losing more than half of their GPU/IGP market share in the last year according to Jon Peddie Research, VIA/S3 is hoping to change that situation with a new family of 65nm/DirectX 10.1/PCI Express 2.0 GPUs. The
Chrome 400 Series
will become available in late February 2008.
No performance information was available, although it uses a 64-bit memory bus and S3 claims to have achieved the "the highest performance-per-watt ratio ever", clearly hinting at their determination to recapture some share in the notebook market where they used to be relatively strong. The chip integrates DisplayPort, HDMI 1.2 and HDCP capabilities and fully accelerates H.264 video decoding. Similarly to NVIDIA's VP2 engine but unlike AMD's UVD, it does not seem to handle all of the VC-1 decoding process.
This family of GPUs will also be manufactured on Fujitsu's 65nm process, like VIA's recently launched Isaiah processor. No further details on pricing, SKU configurations or design wins were made available at press time.
Tagging
graphics ±
via, s3, fujitsu
Related graphics News