CeBIT 2007 - XG Station external graphics nearly done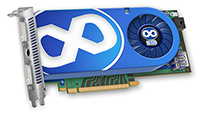 Friday 16th March 2007, 06:06:00 PM, written by
Rys
ASUS's external ExpressCard graphics solution is at CeBIT, with ASUS claiming it's now fully production ready and should be available standalone for around $100 USD.

There's some whispering that ASUS were looking to announce a bundle with an XG Station and GeForce 8600 GT at CeBIT 2007, but since GeForce 8600 isn't around yet it looks like ASUS will officially go with 7950 GT or similar and then refresh when 8600 shows up.

They have a live demo at the show which you can see below, connected to one of ASUS's ExpressCard-toting notebooks and with the XG Station itself showing frames-per-second in the shots, taken while 3DMark06 ran on the G71 GPU.






Tagging
graphics ±
asus, xg-station, 8600
Related graphics News