PCI Express 2.0 AIBs might not work in current non-2.0 mainboards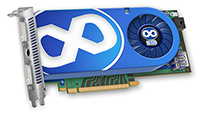 Monday 20th August 2007, 11:11:00 AM, written by
Rys
X-bit Labs
have asked the PCI-SIG for clarification
on whether upcoming PCI Express 2.0 AIBs will work correctly in mainboards that only support PCI Express 1.x.
The answer, that, "
new PCIe 2.0 adapters running at 5.0 GT/S can plug into existing PCIe slots and run at the slower rate of 2.5 GT/S
", was expected. What wasn't so expected was the article reporting that ASUS have warned that PCI Express 1.1-compliant slots might be required, and that 1.0/1.0a slots might not support the standard.
"
It turns out that Asus Blitz mainboards based on Intel P35 chipset and using a special CrossLinx chip to support "PCI Express x8 + PCI Express x8" configurations have limited compatibility with graphics cards supporting PCI Express 2.0 bus. In particular, the primary PCIEX16_1 slot complies with the PCI Express 1.1 standard that is why it supports PCI Express 2.0 graphics cards. The secondary PCIEX16_2 slot meets only PCI Express 1.0/1.0a requirements that is why if there is a PCI Express 2.0 graphics card installed in it, the system may not be able to recognize this graphics card as well as the graphics card installed into the primary PCIEX16_1 slot.
"
However it seems that limitation might be SKU-specific, since ASUS have only announced that limitation for one of their mainboards, with others based on the same core logic seemingly fine.
Keep an eye on you mainboard vendor's website for more details.
Tagging
graphics ±
pci, express, gen2, mainboard, support
Related graphics News